| | |
| --- | --- |
| | Friedrich Krüpp |
| | Germaniawerft |
| | 1920 |
| | 1921 |
| | 1921 |
| | Magdalene Vinnen II |
| | F.A.Vinnen & Co. |
| | Kommodore Johnsen |
| | Norddeutcher Lloyd |
| | Sedov |
| | |
| | Sedov |
| | |
| | |
| | Sedov |
| | |
| | |
| | |
| --- | --- |
| | 3.556(GRT) |
| | 6.148t |
| | 117,5 , 386 |
| | 14,6 , 48 |
| | 6,5 , 21 |
| | 58 , 190 |
| | 4.195 |
| | 45.155 |
| MMSI | 273511000 |
| IMO | 7946356 |
| | UELO |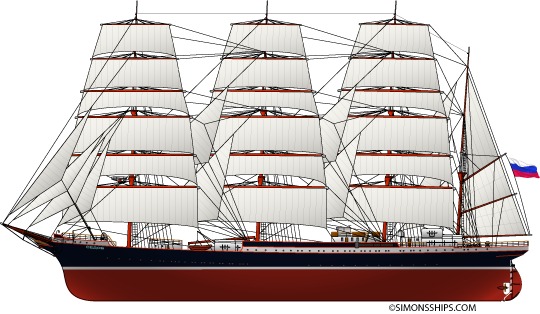 The four-mast barque was built in 1921 at the German shipyard Friedrich Krupp Germaniawerft at Kiel by order of the shipping company F.A. Vinnen & Co of Bremen and named after the wife of the owner: Magdalene Vinnen II. This ship was the second ship with this name (hence the II), since the first Magdalene Vinnen was confiscated after First World War by the Italian government. The vessel was used for bulk transport of coal, grain and saltpeter and took part in the Great Grain Race the informal name of the sailing season for transport of grain from South Australia, via Cape Horn to Cornwall UK. A voyage time of less than 100 days was seen as a fast passage.
In 1936 the ship was bought by the Norddeutscher Lloyd also of Bremen and renamed Kommodore Johnsen, after the former captain of the Norddeutscher Lloyd who died on the steamship Europa. The vessel was partly changed and provided with additional accommodation for an extra training crew (beside the permanent crew) of 50 to 60 cadets on each journey.
After the Second World War the ship was confiscated by the British government and in December 1945 handed over to the Soviet Union. Between 1945 and 1952 the ship was converted to a sail training vessel of the Soviet Navy. The ship was renamed Sedov after the Russian Arctic explorer Georgy Yakovievich Sedov. She was used as a school ship from 1952 till 1957. From 1957 to 1966 the ship was used for oceanographic research in the North Atlantic. From 1966 to 1981 the ship was laid up and in-frequently used, the Ministry of Fisheries became the new owner.
In 1981 the ship was taken back into service after a complete renovation, based in Riga and again used as training ship for cadets. After the independence of Latvia in 1991, the ship was transferred to Murmansk. Today the ship is still used as school ship, but also used as a cruise ship for a limited number of passengers.
References
Wikepedia: en.wikipedia.org/wiki/Sedov
STS Sedov: www.sts-sedov.info/eng/
Adventure Sailing: www.sedov.info/Start_E.htm
"The content of this page is available under CC-BY-SA/GFDL"