| | |
| --- | --- |
| | Cochrans shipyard |
| | 1928 |
| | 1928 |
| | 1928 |
| | Picton Castle |
| | Castle Steam Trawlers |
| | HMS Picton Castle |
| | Royal Navy |
| | Picton Castle |
| | Castle Steam Trawlers |
| | Tetys |
| | A.S.Einar Hausvik & Co |
| | Utstraum |
| | Alf Utkilen |
| | Steinfrost |
| | Johan Stangeland |
| | Bergfrost |
| | Johan Stangeland |
| | Tunstein |
| | H.Norland |
| | Dolmar |
| | A.Sandness |
| | Picton Castle |
| | Windward Isle Sailing |
| | |
| --- | --- |
| | 284(GRT) |
| | 300t |
| | 54,5 , 179 |
| | 7,3 , 24 |
| | 4,4 , 14,5 |
| | 34,1 , 112 |
| | 1.161 |
| | 12.500 |
| MMSI | 5180000192 |
| IMO | 5375010 |
| | E5WP |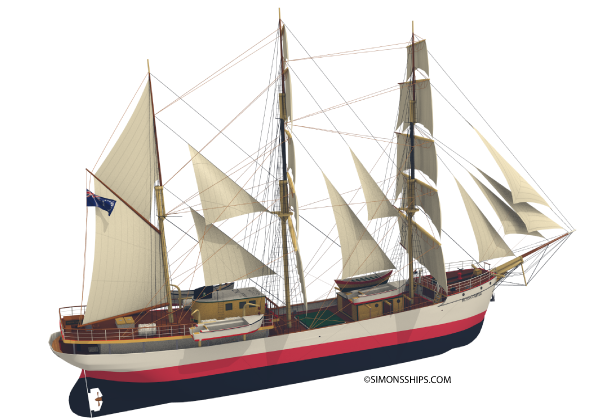 The Picton Castle, now rigged as a three-masted barque, was originally built in 1928 at Cochran's Shipyard in Selby, North Yorkshire, England as a steam fishing trawler along with four sister-ships by order of Castle Steam Trawlers from Swansea, Wales.
In 1939 the trawler was requisitioned by the Royal Navy to be changed to a minesweeper (which became a quite dangerous job for a steel vessel, when the Germans invented magnetic mines). At the end of the war the ship was sweeping mines near Norway, when entering into problems. They decided to put into the nearest port: Bergen, Norway. The Germans were just leaving Norway, thus the HMS Picton Castle became the first Allied vessel entering the harbor. Since than the Picton Castle is known by Norwegians as "Liberator of Norway".
After the war the ship returned to its original owners again fitted as a fishing vessel. In 1955 the ship was sold to the Norwegian company A.S. Einar Hausvik & Co. She was converted to a cargo ship, equipped with a diesel engine and renamed: Tetys.
In 1960 sold to Alf Utkilen, who renamed her as Utstraum and refitted the ship as refrigerated cargo vessel for transport of frozen fish.
Bought in 1970 by Johan Stangeland, who named her Steinfrost and in 1973 again renaming her in Bergfrost. In 1978 the ship was converted to a suction dredger.
Sold again in 1981 to H.Norland and renamed Tunstein.
The last of the Norwegian owner's was A.Sandness, who bought the ship in 1984 and named her Dolmar. In 1990 the vessel was laid up.
In 1993 the ship was found by Captain Daniel Moreland in a Norwegian fjord. After some necessary repair the ship, again with her old name: Picton Castle, sailed across the Atlantic to New York. Moved in 1996 to the Canadian harbor Lunenburg, Nova Scotia. Refitted with a new bow and three steel masts. The vessel became a barque.
The Picton Castle is now used for long voyages as a sail training vessel.
References
Wikepedia: en.wikipedia.org/wiki/Picton_Castle_(ship)
Barque Picton Castle: www.picton-castle.com/
"The content of this page is available under CC-BY-SA/GFDL"